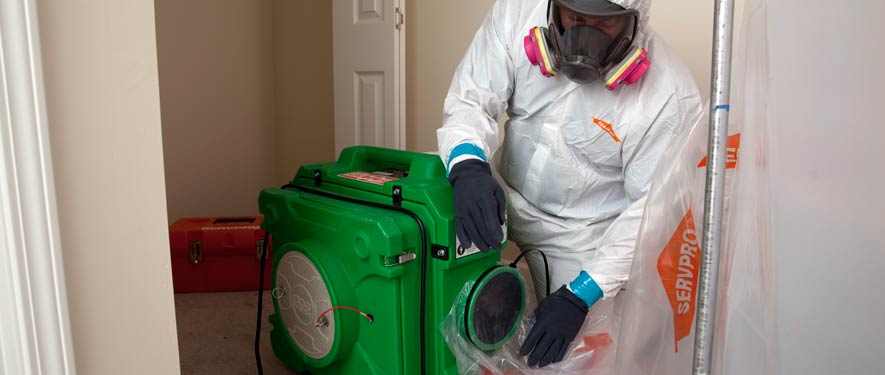 Sewage Cleanup and Restoration
Sewer Backups Mean Cleanup in Shreveport
Multiple times of the year, Louisiana is battered with intensive flooding, and the ground cannot soak up all the water. The great Mississippi forms most of the eastern border before it cuts south through the "boot." Then the Red River, Bayou Teche, Atchafalaya, Bayou Lafourche often overwhelm and bloat waterways pushing southward toward the Gulf of Mexico. Floodwaters endanger life, infrastructure, homes, commercial property, and farmland.
SERVPRO of South Shreveport is acutely aware that Mother Nature's flooding can also bring too much water in our flatlands, causing municipal sewer to become overcapacity damaging infrastructure, homes, and businesses. It is difficult and expensive to repair and also creates health hazards.
Other causes of sewer backup include:
• Tree Roots: Roots enter the service pipe at joints, cause blockages, and can travel a long way.
• Sanitary Main. A blockage can occur in a city sanitary main when sewage from the main can back up through floor drains.
• Basement Water. When soil settles, rainwater can flow down the foundation wall in buildings.
Whether saturated rivers or groundwater, tree roots, or central lines cause sewage backup, the water is unsanitary and may contain bacteria and viruses that could cause serious illness. SERVPRO of South Shreveport is experienced in evaluating whether the contents and a structure may be
decontaminated and restored or whether everything must be removed and replaced.
Call SERVPRO of South Shreveport. We have the team, specialized training, and equipment necessary to clean contamination safely.
Sewage Backup or Toilet Overflow? Call Us Today – (318) 865-4655
There are three major types of contaminated water. SERVPRO of South Shreveport will inspect that contaminated water to determine the type of water and then plan the appropriate response to safely restore your home or business.
The three types of contaminated water:
Category 1: "Clean Water"
This is water from a clean source, such as a broken clean water supply line or faucet. If left untreated, category 1 water can quickly degrade into category 2 or 3 water depending upon such factors as time, temperature, and contact with contaminants.
Water from a clean source like a broken water line
If left untreated, can degrade into category 2 or 3
Category 2: "Gray Water"
This water has a significant level of contamination that could cause discomfort or illness if ingested. Sources for category 2 water may include washing machine overflow; toilet overflow with some urine, but no feces; or dishwasher overflow.
May contain bacteria and viruses
Can quickly degrade into category 3 if left untreated
Category 3: "Black Water"
This water is grossly unsanitary and could cause severe illness or death if ingested, and any contact should be avoided. Sources for category 3 water could include flooding from rivers or streams, water from beyond the toilet trap, water from the toilet bowl with feces, or standing water that has begun to support microbial growth.
May contain untreated sewage, harsh chemicals, and microbes
Water from flooding rivers or sewer backup
24 Emergency Service
Sewage backup should be considered an emergency and dealt with as quickly as possible. We are the water damage restoration specialists with specific training and expertise to safely restore your home or business.