Removing Water Is the First Step in Water Restoration for Shreveport Homes
2/21/2023 (Permalink)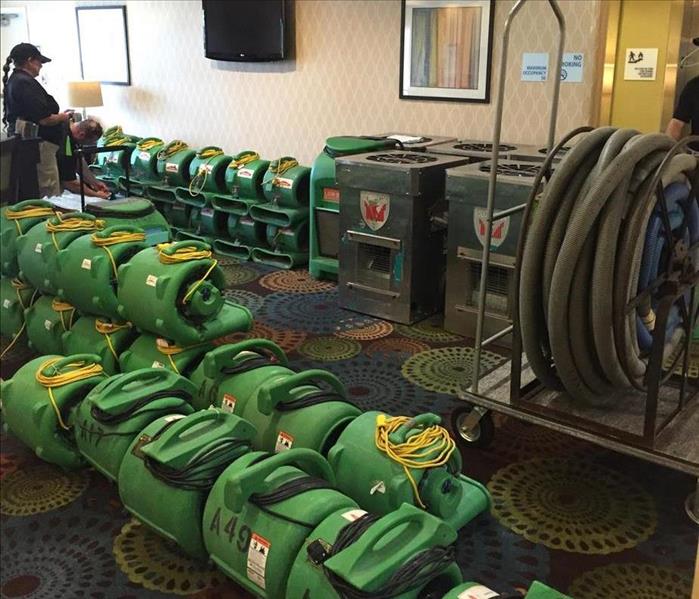 After water removal in your Shreveport home, SERVPRO provides a large inventory of drying equipment.
Immediate Removal of Water in Shreveport is the Best Water Restoration Course of Action
Water restoration of Shreveport homes after a storm involves many steps leading to fully restoring your home to its preloss condition. Mitigating the damage is one of the highest priorities of our SERVPRO team. Removing water immediately from floors, walls, and ceilings can significantly reduce the secondary damage caused by moisture absorption and mold.
SERVPRO sets priorities, develops a plan, and focuses initial water restoration efforts in your Shreveport home to minimize total damage after a storm:
Assess the damage, water, and debris penetration and safety issues
Install temporary protection – tarps on roofs, board up of windows and doors
Initiate water removal – pumping, weighted extractors, vacuum wands
Remove debris, begin disinfection and cleaning
Install high-capacity air movers and dehumidifiers to begin drying the home
Once we have removed all the water and debris, humidity has returned to normal levels, and your home has been cleaned and disinfected, it is time to focus on restoration activities. Our building services crew can begin repair and restoration, coordinated by SERVPRO. Building services that may be required include:
Repairs to the roof, windows, and other outside areas, in addition to general exterior cleanup
Controlled demolition of structure permanently damaged, e.g., flooring, walls, cabinets
Restoration, including – electrical, plumbing, HVAC, walls, floors, and cabinet installation
Painting, flooring installation
Return your contents that were cleaned and dried and held in a safe environment
Don't hesitate to discuss any special concerns your family may have concerning valuable contents, heirlooms, or working with your insurance company. Our SERVPRO colleagues can answer these and any other questions you may have while they remove water, clean, repair, and restore your home after a major storm damaged it.
Call SERVPRO of South Shreveport for water restoration services. We provide service to Shreveport and nearby areas. We can help 24/7. Call (318) 865-4655.