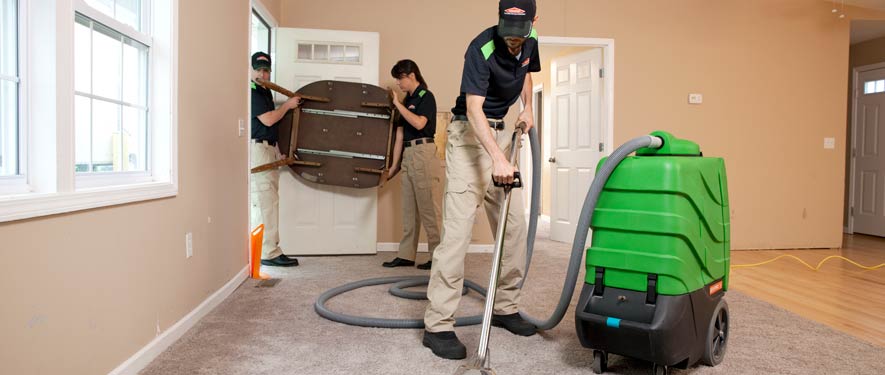 Residential Services
Shreveport Homes Receive TLC --"Like it never even happened."
The many houses in the Shreveport area all embrace our friends and neighbors. Our community is small enough where our team of technicians, office staff, and owners understand the importance we place upon our homes. We stamp it with our character, cherish the memories it holds, and do our best to maintain its beauty. And here is where we excel in offering a wide range of cleaning, remediation, repair, and build back services.
Typically, the number one call-out is to freshen up carpets and furnishings. Our trained to IICRC specs Carpet Cleaning Technicians (CCT), arrive on-time, in uniform with the latest equipment, to restore your flooring to an almost-new appearance. With SERVPRO cleaning protects and a variety of vacuums, wands from light bonnets to hot water extractors, we clean the pile while eliminating the danger of delamination. With a firm understanding of the physics of soil removal, we can add many years to the fibrous floor covering. Why stop there? Upholstery cleaning and sanitizing can make watching that late-night movie a little more pleasant. Deodorized, no dog hairs from Fido, or worse, and your favorite easy chair still has a long service ahead to keep you comfy.
For the many damaging events like a sewage overflow, unfortunate trauma, we got you covered! We can sand and refinish your hardwood flooring, clean tile grout, and put the sparkle back in your home.
24-Hour Emergency Service
Faster to Any-Sized Disaster
Highly Trained Technicians
A Trusted Leader in the Restoration Industry
Locally Owned and Operated
Advanced Restoration and Cleaning Equipment
Residential Restoration Services
Fire, Water, and Mold Restoration are the cornerstones of our business. We are dedicated to being faster to any-sized disaster. Our focus on training ensures we have the expertise and skills needed to promptly restore your property right the first time. Our restoration services include the following:
Residential Cleaning Services
Life happens. Kids spill drinks, pets have accidents, and homes get dirty. We offer cleaning services ranging from air duct cleaning to removing biohazard contaminants. Our residential cleaning services will not only ease the burden of the constant maintenance of your home but will also create a safe,
clean, and comfortable living environment for your family. Our cleaning services include the following: