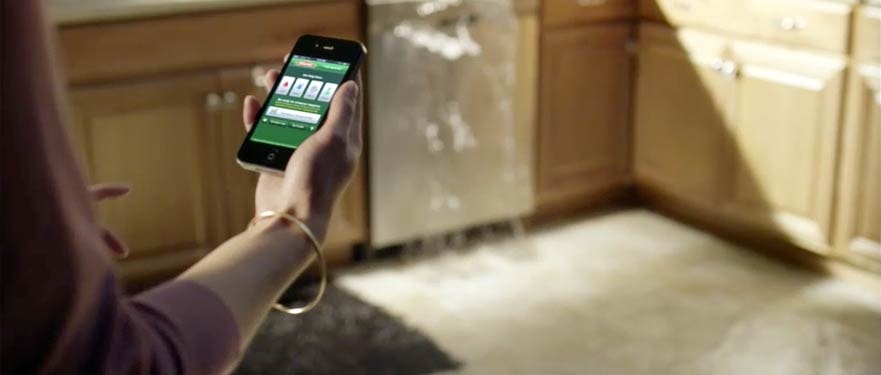 Water Damage Emergency Tips
What you can do until help arrives
Water Tips  |  Fire Tips   |  Biohazard Tips   |  Mold Tips
What Should a Shreveport Homeowner Do After Discovering a Water Leak?
Usually, when property owners discover pooling water on the floor or ceiling of their Shreveport home, the first inclination is to get rid of it. For minor spills or leaks, that is often the quickest and easiest solution, once again, usually. Suppose the puddle of water from the dishwasher was mopped up from the tiled floor, and all looks okay; but is it really? If the water migrated into the small void behind the toe-kick, wicking could damage the base cabinet and the drywall. A small spill could end up costing our homeowner some new kitchen fixtures.
SERVPRO suggests calling us may save you money and inconveniences in the long run. But, if you must DIY, here are some tips from the professional water damage experts. SAFETY comes first. Be very careful of slipping and falling, which may precede an unexpected visit to the emergency room. Water and electricity can be a lethal duo. If you suspect that the water may be in contact with a live wire or plug, walk away. You can go and turn off the circuit breakers, but is it worth the risk? We can help.
Of course, you want to protect your furniture from contacting the water as it flows across the floor. Be careful before lifting heavy sofas and tables. Place blocks of wood, but never magazines which may bleed print colors onto the carpet or upholstery, under the legs.
Have A  Water Damage Emergency? Call (318) 865-4655
What To Do After Flooding
Remove excess water by mopping and blotting.
Wipe excess water from wood furniture after removal of lamps and tabletop items.
Remove and prop wet upholstery and cushions.
Place aluminum foil or wood blocks between furniture legs and wet carpeting.
Turn air conditioning on for maximum drying in summer.
Remove colored rugs from wet carpeting.
Remove art objects to a safe, dry place.
Gather loose items from floors.
What NOT To Do After Flooding
Don't leave wet fabrics in place. Hang furs and leather goods.
Don't leave books, magazines or other colored items on wet carpet or floors.
Don't use your household vacuum to remove water.
Don't use television or other household appliances.
Don't turn on ceiling fixtures if ceiling is wet, and keep out of rooms where ceilings are sagging.