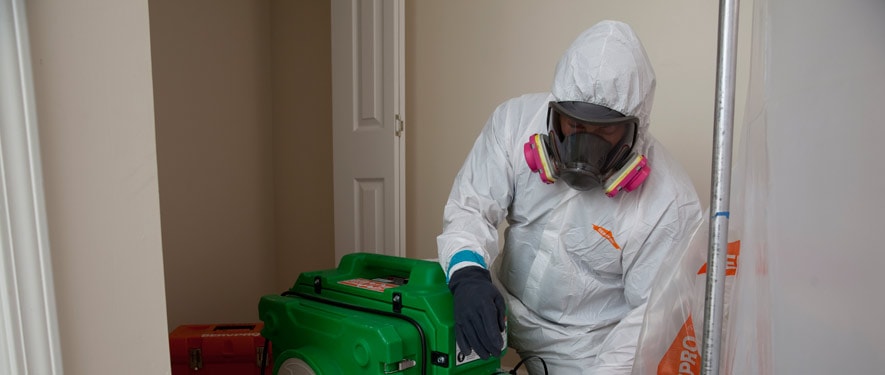 Biohazard and Sewage Emergency Tips
What you can do until help arrives
Water Tips  |  Fire Tips   |  Biohazard Tips   |  Mold Tips
Biohazard Contaminates in Shreveport: What to Do Until Help Arrives
Biohazard contaminants should be considered very dangerous as they can pose a severe health risk. They are defined as any biological or chemical material that is threatening to humans, animals, or the environment. Examples of biohazards may include exposure to:
• Bodily fluids including blood, vomit, feces
• Human tissue
• Used syringes
• Salmonella or foodborne diseases
• Cases of malaria, syphilis, Hepatitis B or C, and HIV
• Sewer backups
• Floodwaters
The best prevention is to avoid exposure. However, when an extreme incident manifests itself, such as a traumatic accident, crime scene, or severe flooding and you find yourself faced with the cleanup, it is best to turn to a professional for help.
While Waiting for a Professional Service to Arrive
• Stay calm and do not panic
• Have someone call 911 if it is an emergency
• Encourage others to leave or move away
• Block off the area with tape, cones, and signs
• Do not touch anything or attempt to clean up
SERVPRO of South Shreveport has the experience, personal protective gear, and specialized equipment necessary to safely clean and restore this type of contamination. Effective treatments may include decontamination, sanitization, and using cleaning agents. We ensure compliance with all EPA, DOT, state, and local regulations. Our team knows how to do the job, and you can be assured we are discreet because we understand the need to protect personal and sensitive information.
Need Biohazard Cleanup? Call Us Today – (318) 865-4655
After any biohazard or sewage contamination in your home or business, your primary focus should be safety:
Is it safe to stay in the house?
Exposure to biological and chemical contaminants can pose serious health consequences.
Flood water can contain sewage, pesticides, and other contaminants.
Only do activities that are safe for you to perform.
What to Do After a Contamination
Stay out of affected areas.
Call emergency service personnel if the situation is life-threatening.
Treat all bodily fluids as if they are contaminated.
Turn off the HVAC system if there is sewage damage.
What Not to Do After a Contamination
Don't leave wet fabrics in place. Hang furs and leather goods.
Don't leave books, magazines, or other colored items on wet carpet or floors.
Don't use your household vacuum to remove water.
Don't use television or other household appliances.
Don't turn on ceiling fixtures if ceiling is wet, and keep out of rooms where ceilings are sagging.
24 Hour Emergency Service
Biohazards like flood water or sewer backups should be considered an emergency and dealt with as quickly as possible. SERVPRO of South Shreveport has water damage restoration specialists and has specific training and expertise to safely remediate biohazard contaminants.
SERVPRO of South Shreveport proudly serves Shreveport, Forbing, and surrounding areas.